A Day In the Life at
Duluth
Dog Depot
Welcome to Duluth Dog Depot! We're so happy that your pet is joining our Depot family. Read below to see what your pup can expect during their day.
Interview Day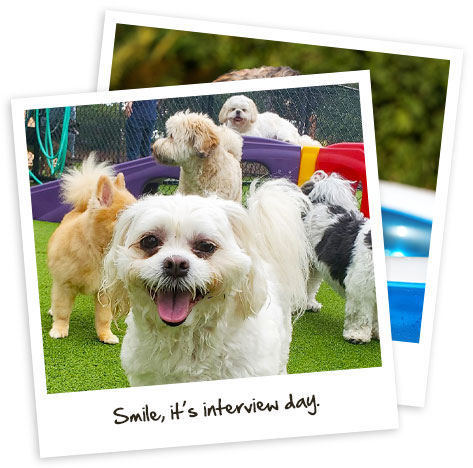 Duluth Dog Depot provides an Interview Day for all new pups joining our camper crew. On this day your pet will enjoy a complimentary day of camp play (a savings of $28). We ask that pets drop off between 7:00am and 8:30am, so that our camp counselors can asses your pet's play style and personality to match them up with the perfect camp group. Please know that this is not a "pass or fail" test, but rather an opportunity to determine where your pet is most comfortable from a socialization and temperament position.
When you arrive for your pets Interview Day, please plan for 15 minutes to sit down with a team member and fill out any necessary forms and discuss your pet's needs. After drop-off your pet will be taken to the camp yard to familiarize themselves with the new smells and meet their camp counselor. This individual attention helps dogs to relax and become comfortable in their new surrounds. Their new friends will join them in camp at 9:00am for a morning of play, before heading inside for a lunchtime cooldown and a chance to relax and decompress. Afternoon camp begins at 2:00pm and goes to 5pm, when our drive-thru pickup opens.
The staff will communicate with you personally about your pet's day, new friends, activities, and relay any concerns that may have arisen. After your pup's interview day, you can request future camp reservations right through our App or via Gingr Portal.
Day Camp
Upon arrival, each pup is welcomed into camp to become familiar with their surroundings and the Duluth Dog Depot care team. They are given the chance to greet the staff, check out all the interesting smells, and explore their environment. They are then transitioned into their personal lodging quarters to relax until the camp session begins. We provide free access to water through the day and can provide them with lunch at their pet parent's request.
Morning camp begins at 9am and campers are released into the play yards to have an awesome time with their new friends! Each of our play yards comes equipped with doggy play equipment, turf grass, and beautiful shade trees overhead. Throughout the week, we host fun events, camp parties, sports games, and different activities to engage our campers.
Morning camp concludes at 12pm when the dogs come inside for a lunchtime cooldown, nap, or snack. This break also gives the campers a chance to relax and decompress from the stimulation of outdoor play with new friends. During this period, morning campers are picked up and afternoon campers are checked in.
Afternoon camp begins at 2pm and concludes at 5pm, when pickup for all-day and afternoon play begins. For your convenience, we offer drive-thru pickup after 5pm! Just pull into the drive through and give us a call, and we will safely transport your pet right to your car.
Boarding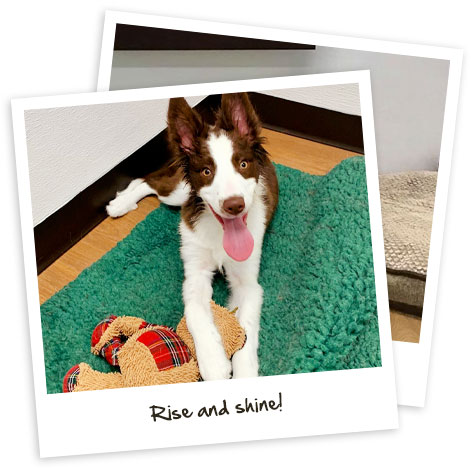 Rise and Shine! Beginning at 7am boarding guests are taken outside for their morning walk, to potty and stretch their legs before breakfast is served. Day camp play comes free each day for eligible boarders, and beginning at 9am they will head out into the play yards for a morning of fun and adventure with their new friends. Each week we host camp parties, sports games, and fun activities for those participating in group play.
At lunchtime, boarding guests will head back in to rest and relax for the afternoon, and any scheduled services like a solo fetch session, cuddle time, and video updates can be completed. For more active pups, a second camp session can be purchased to provide even more exercise opportunities during the afternoon hours.
As the day winds down and campers depart, boarding guests are delivered dinner beginning at 5:45pm, followed by last walks. At 6:45pm, guests are prepared for bedtime and any scheduled night time services like bedtime snacks or Kong toys are provided a little while before lights out commences, and guests snuggle down for a good night's sleep.