Luxury Boarding at
Duluth
Dog Depot
We invite your pet to come stay with us!
All boarding suites come with free day camp park play!
Have your pet stay the night in our luxury boarding suites! We have three sizes available, the largest of which are bedroom-sized private spaces, complete with plush bedding, electric fireplaces, and dog TV. We also have special add-on options for pets!
Royal Suites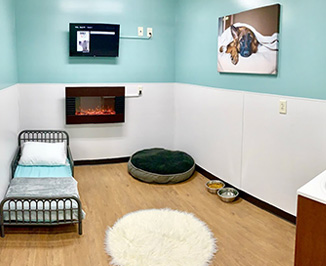 $78/night ($68/night additional dogs)
9ft x 8ft Private Rooms
Our three Royal Suites are bedroom-sized 9ft x 8ft private rooms and contain an electric fireplace, memory foam bed, and a television for your pet's entertainment.
Deluxe Carriage Suites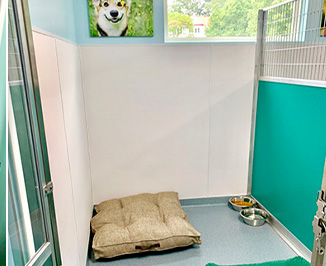 $58/night ($48/night additional dogs)
7ft x 6ft Suites
Our Deluxe Suites are 7ft x 6ft with privacy walls, natural lighting, and plush bedding. They are plenty large enough for a whole family of dogs!
First Class Suites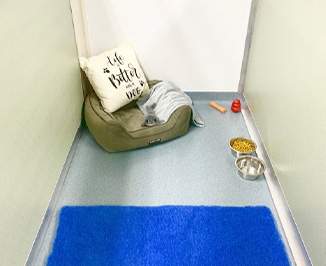 $48/night ($38/night additional dogs)
6ft x 4ft Suites
Our First Class Suites are 6ft x 4ft with privacy walls and plush bedding - perfect for a large dog or a family of smaller dogs!


Packages
Bells and Whistles Package - $16 (save $5!)
Includes Video Updates, a Cuddle Session, a Kong toy full of treats, and a Bedtime Snack
Full Steam Ahead Package - $10 (save $3!)
Includes Video Updates, a Kong toy full of treats, and a Bedtime Snack
Streamlined Package - $5 (save $2!)
Includes a Kong toy full of treats and a Bedtime Snack
A La Carte
Bedtime Snack - $3
Cuddle Time - $8
Fetch Session - $8
Video Updates - $6
Kong Toy w/Treats - $4
Additional Day Camp Session - $14
The add-on option prices are a per day charge and can be added to as many or few reservation days as you would like.
Forms and Requirements
Please download, print, and fill out the following form in order to make your check-in process easier. Thank you!

Viewing PDF documents requires Adobe Acrobat Reader. If you do not have Acrobat Reader, you can download it for free by clicking here.